Good Thursday afternoon, everyone! We begin today's newsletter with a project from just outside the Midwest, at the National Renewable Energy Laboratory in Colorado. Scientists overcame two major barriers with their new perovskite material, Apex Flex, to create a flexible and stable solar cell.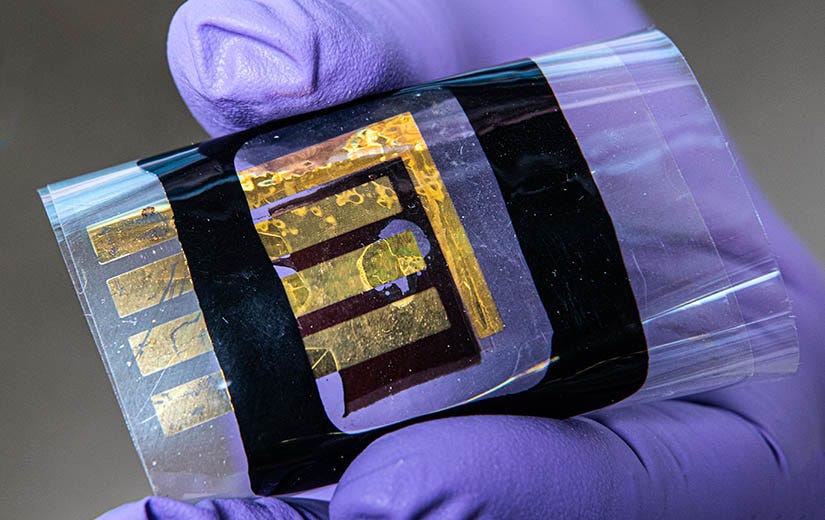 A close-up view of the dimethylammonium-containing wide-bandgap perovskite, flexible solar cell designed at NREL. Photo by Dennis Schroeder, NREL.
Scientists created stable, full-perovskite tandem cells that operate at high power and efficiency due to their layering of two PV materials. Other PV materials were limited to silicon, which is not flexible and less efficient, causing solar cell chemical instability.

Apex Flex reportedly has the highest known efficiency for thin film cells, at 24.5%.

NREL's PV is up to 200 times less expensive than other flexible PV technologies.

The flexible cells could be put on top of vehicles, from passenger cars to heavy-duty trucks, for solar energy use. They also have the potential for a variety of applications across the power grid.
🥤 PLASTICS: Also at NREL, scientists devised a way to make "greener" polyurethane, a plastic largely derived from petroleum byproducts. Instead of fossil fuels, this bioplastic is constructed from nontoxic resources including linseed oil and algae.
♻️ RECYCLING: University of Kansas researchers are leading a project to develop technology for separating and recycling hydrofluorocarbon refrigerants, which contribute to global warming.
🏭 EMISSIONS: Advanced Research Projects Agency–Energy (ARPA-E) is releasing more details about what it is looking for with its newly announced request for information for technologies to mitigate methane emissions. The ARPA-E program director explains why the agency is exploring such a program and some specific technologies that hold potential, such as using catalysts to oxidize methane to CO2.
🤝 PARTNERSHIPS: A University of Michigan study found that communities want to work collaboratively with each other on energy and sustainability issues — including implementing new technologies — but few already do so. Green purchasing programs and public transportation are two key areas ripe for partnerships.
💻 VIRTUAL EVENT: The U.S. Chamber of Commerce Foundation's Hiring Our Heroes initiative is holding a virtual hiring event for solar and renewable energy jobs tomorrow, October 2. Participating employers include Minnesota's Blattner Energy and Michigan's Consumers Energy.
---
Connect with Centered to share feedback, press releases, and news tips:
---
Centered is a publication of the Energy News Network, in partnership with the Illinois Science and Energy Innovation Foundation and mHUB.